Alaska Teddy Ms Jacket, Blaze Orange
Regular price
€79,90
Sale price
€39,90
Save 50%
/
Tax included.
---
Size Guide
×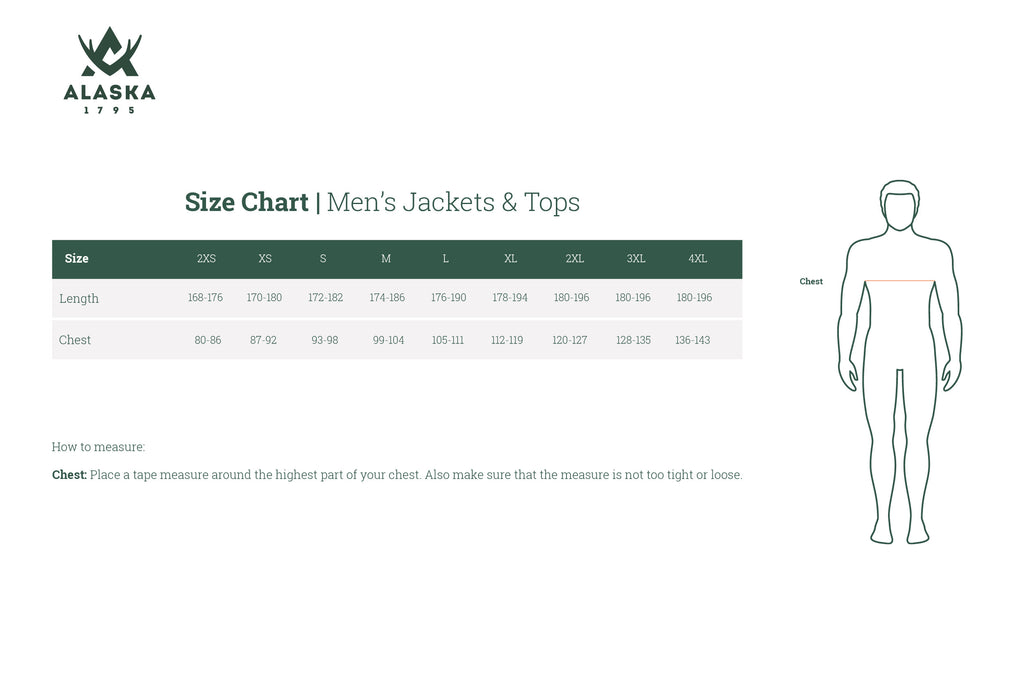 A comfy pile fleece jacket with 2 chest pockets and 2 hand pockets. High collar and thumb holes in the sleeves. Extremely warm and silent jacket for hunting and outdoor!
A comfy and quiet pile fleece material
2 chest pockets with zippers
2 hand pockets
Thumbholes in the sleeve cuffs
The model is 182 cm tall and wearing size M.
Bulgaria, Croatia, France, Hungary, Italy, Luxembourg, Norway, Slovakia, Slovenia, Portugal and Spain
Delivery time: 3-7 business days
Shipping cost: 12,90€
Austria, Belgium, Czhechia, Denmark, Germany, Netherlands, Poland and Sweden
Delivery time: 3-7 business days
Shipping cost: 9,90€
Finland, Estonia Latvia, Lithuania
Delivery time: 1-3 business days
Delivery cost: 7,90€ 
General care instructions for Alaska 1795 clothes:
Wash the garment only when necessary. Washing too often can cause the garment to wear out. Small dirt stains can be removed by wiping the garment with a damp cloth.
Close zippers, buttons and Velcro before washing.
Avoid using fabric softener, especially on membrane clothing.
Wash new clothes together with clothes of the same color.
Do not use a tumble dryer unless necessary
Membrane clothing (APS, Rain-Stop)
Follow the washing instructions on the garment
Close velcro, zippers and buttons before washing
Do not use fabric softener
Avoid spinning to protect the membrane and taping
Use a drying cabinet for drying if possible, and this way the water-repellent DWR treatment on the surface of the garment is activated after washing
Keep the garment clean to prevent its membrane from clogging
Baselayers (CoolDry)
Follow the washing instructions on the garment
Do not use fabric softener, as it can weaken the technical properties of the garment
Wash the baselayers inside out to protect the logos
Dry the product by hanging it on a drying rack
Baselayers (Merino)
Wool repels dirt much better than synthetic materials, so wool products do not need to be washed often
You can replace washing with careful ventilation
When washing, carefully follow the washing instructions on the garment
Use a wool detergent
Dry woolen products flat to prevent them from stretching
Midlayers (ThermoDry)
Follow the washing instructions on the garment
Do not use fabric softener, as it can weaken the technical properties of the garment
Close velcro, zippers and buttons before washing
Wash the midlayers inside out to protect the logos
Dry the product by hanging it on a drying rack or in a drying cabinet
Accessories
Follow the washing instructions on the garment
Do not use fabric softener, as it can weaken the technical properties of the garment
Dry the product by hanging it on a drying rack
Thermal products
Remove the batteries from the products
Follow the washing instructions on the garment carefully
Do not use fabric softener, as it can weaken the technical properties of the garment
Do not tumble dry
Dry on low heat to protect the electronics